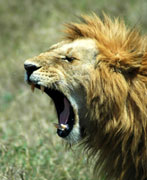 East Africa Explorer - 14 days - Tanzania start
Combining our Tanzania and Kenya safaris for a two-week journey of adventure that is more than just one wildlife park after another. Discover the contrasting scenery, wildlife environments and cultures as you travel through these most spectacular safari destinations. This itinerary starts in Tanzania, but can also be started in Kenya on alternate weeks- (see When we go).
Day 1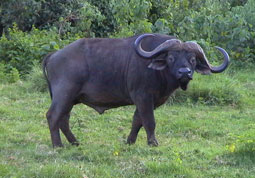 Buffalo in Lake Manyara NP
From Arusha we drive to Lake Manyara in the great Rift Valley. Enter and take a game drive around Lake Manyara National Park. Famed for its unusual tree-climbing lions it also has a large elephant population, rich bird life in the forests and thousands of flamingos on the soda lake. Late in the afternoon, climb into the crater highlands for overnight at Endoro Lodge on the border of the Ngorongoro Conservation area, our overnight accommodation (en-suite rooms).
Day 2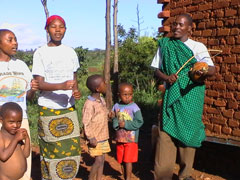 Paulo, musician/farmer and his family
Short drive to nearby centre of Karatu and a leisurely walking safari through farms and villages on the rift valley escarpment. You discover the farming, irrigation, houses and cattle husbandry techniques of the Iraqw tribe. There is also traditional wood-fired brick making, local musicians, and you generally gain a deeper understanding of the lifestyle of the people who live here. Visit the nearby village market or relax in afternoon back at Endoro Lodge and overnight (en-suite rooms)
Day 3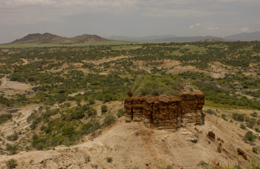 Olduvai Gorge, palaeolithic site
Drive to the Serengeti! Lunch en-route at Olduvai Gorge and a view of the archaeological sites (and museum) where early human tools have been found. Afternoon game drive in the rolling grasslands. Criss-crossed with forested riverine valleys, the Serengeti plays home to millions of Africa's large mammals, making this one of the world's most famous wildlife destinations. Camp overnight in the heart of the Serengeti. Modern toilets and showers, but not en-suite.
Day 4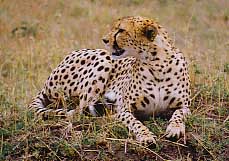 Serengeti cheetah
All day game drives in Serengeti. Best time for the wildebeest migration is Dec to June but there are spectacular wildlife sights at anytime of year. Dinner and camp-fire with the stars and sounds of the African night. Camp again in the heart of the Serengeti. Modern toilets and showers, but not en-suite. .
Day 5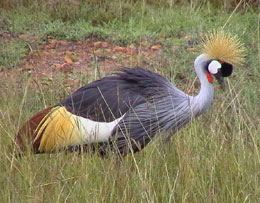 Crowned crane
Further morning game drive in Serengeti and then back across the grasslands and up to the Ngorongoro Crater. Tonight we stay in Rhino Lodge, owned and run by the Maasai here. Located within the forest, it is quite common for zebra, buffalo and even elephant to be grazing right outside the lodge (en-suite rooms).
Day 6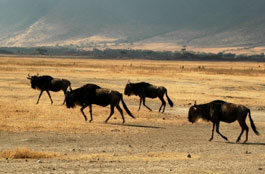 Wildebeest in the Ngorongoro Crater
Ngorongoro is collapsed volcano - an incredible natural amphitheatre, 25 km across and teeming with all of the African big game. Early morning descent into the crater for spectacular scenery and game viewing in what has been described as the eighth wonder of the world. After lunch, on to a small village north of Arusha for Maasai lands and life experience. We maintain a nursery and primary school here, which you can visit in term time if you wish. Overnight at our own small campsite behind the school with Mt Meru looming above - there will be villagers round the fire guarding the camp all night.
Day 7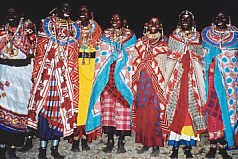 Evening visitors to our camp
Morning activities around the village. You can visit traditional huts, take part in activities like goat herding, jewellery beadwork, spot birds on a short walking safari, and learn from a villager the history and culture of these fascinating people. Return to Arusha by 13.00 for 14.00 shuttle-bus transfer to Nairobi. Overnight at our Rock House private guest house accommodation.
Day 8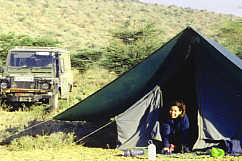 First night's bush camp in Kenya
Drive west from Nairobi, stopping for a breathtaking view over the Great Rift Valley, and into Maasailand. Lunch en-route and on to a small Maasai homestead for insights into their fascinating way of life. Overnight camp under the acacia trees, dinner round a camp fire, starlit skies and sleep to the sounds of the African night - often lions roaring in the distance. Don't worry! Our camp is guarded by the Maasai all night.
Day 9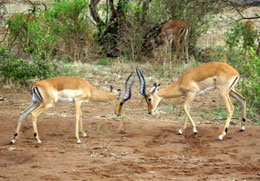 Male impala contest
Walking safari (not obligatory) along small river course and through the savannah for wildlife viewing with the Maasai as guides and interpreters of their lands, often walking amongst giraffe, impala, zebra and wildebeest. On to lunch by a natural hot spring at Maji Moto where you can take a dip or just dip your toe in. Here we support the Enkiteng Lepa Maasai women's project, a primary school (we arrange visits during term time), and engage in cultural activities with the Maasai. Then on to our secluded camp in the Masai Mara. Overnight in our comfortable permanent tented safari camp (beds with en-suite facilities).
Day 10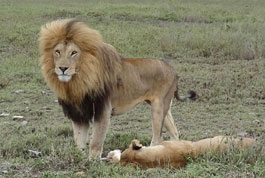 Mara lions
Ecologically the Masai Mara is an extension of the great Serengeti plains and teems with wildlife. Up at dawn to spend a full day in the reserve on game drives where you almost certainly will see elephant, buffalo, lion, zebra, giraffe, hippo, crocodile and a whole ark-full of other animals. Rhino, cheetah and leopard are seen on 2 out of 3 visits but our expert naturalist guides and 4WD vehicles ensure you have the best chance of seeing them all. From July to September, the Mara is home to the great wildebeest migration. Overnight again in our permanent tented safari camp.
Day 11

Our homestay house
Early start for another game drive, or short hike up Naumare Hill to watch the sun-rise stream over the Mara. Back to camp for breakfast and then on to a Kikuyu homestead near Lake Elementaita. Exploration of a subsistence farm here and afternoon tea with the farmer and his wife. Option for an overnight stay in a villager's house for fascinating insights into local life, enhancing your African experience and providing an additional income for the family - no extra cost but advise us in advance please. Otherwise on to a comfortable local hotel just outside Nakuru National Park.
Day 12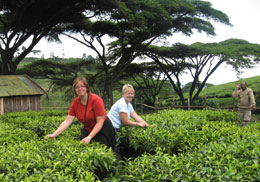 Pick your own tea
Drive through Nakuru town, then up past the spectacular Menengai volcanic crater, to a coffee and tea estate co-operative. A delightful, cool, verdant forested setting where there will be a guided bird-watching walk, excellent estate lunch, and visit to the tea and coffee processing operations. You can try your hand at picking tea and coffee if you like (and if you don't fancy the walk or the tea and coffee processing insights you can relax in the beautiful gardens drinking it). Return to the hotel by Lake Nakuru for overnight.
Day 13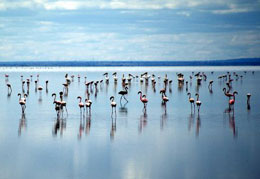 Lake Elementaita flamingo
Early start for game drive in Lake Nakuru national park. This is a small but spectacularly picturesque park with abundant wildlife and an excellent chance of seeing the rare rhino, both black and white species, lion, leopard, vast herds of buffalo and the unusual Rothschild's giraffe. It has also had nearly 400 species of birds recorded within its boundaries. After lunch a short drive to Lake Elementaita, a soda lake on the floor of the Great Rift Valley, for walking exploration of the lakeside environment and afternoon tea. There are hot springs with amazing heat tolerant fish (accessible if lake water not excessively high) and thousands of pink flamingos and pelicans. Another short drive to Lake Naivasha for overnight accommodation in chalets right by the lake.
Day 14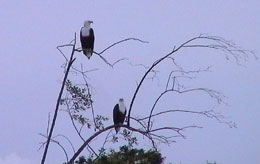 Fish eagles at Naivasha
Lake Naivasha is a vast freshwater lake, famed for its hippos and bird life particularly fish eagles, love-birds and pelicans. You take an early morning boat trip to see some of them, disembarking at an animal sanctuary half way to walk amongst giraffe, zebra, impala and water buck. Leave mid morning for return to Nairobi arriving around 13.00.
General
Accommodation is in bush camps (2 nights fully supported), our own permanent tented safari camps with beds and hot showers (4 nights), local hotels, lodges, and chalets (7 nights), with an optional night in local villager's house (please request details if you'd like to know more about this). The bush camping nights on this trip allows us access to more remote areas. We do not generally use the mainstream tourist lodges but neither do we compromise on health, safety or reasonable comfort. Lodge accommodation can however be arranged for private group departures if required. Equipment is carried by vehicle, you only ever carry a day-pack with personal gear. When camping you will not have to participate in camp chores. We buy fresh produce locally and ensure good standards of hygiene. We can cater for special dietary requirements and there are no extra food-kitty payments.
We can also arrange airport transfers and accommodation in Arusha and Nairobi for before and after your trip
Trip Cost
Cost for scheduled departures:
Group rates private departures:

US $4,495

per person if you join one of our scheduled departures - see When we go. We need a minimum of 2 people booked for these trips to run. Contact us for booking status if you are a single traveller.

US $4,395

per person for group of 9 -10


US $4,595

per person for group of 5 - 8


US $4,795

per person for group of 3 - 4


US $4,995

per person for group of 2


US $7,695

for single person departure
Prices quoted include:
Prices quoted exclude:

Transport - 4WD Toyota Landcruisers, with roof hatch for game viewing and guaranteed window seats
Hotel/lodge/permanent camp accommodation all with beds and en-suite toilet/showers
All camping equipment on the two nights it is required including mattress, pillow, sleeping bag and cotton liner.
Dedicated wildlife/cultural guide, various local guides, cook and driver
All National Park entrance and other fees
All food - breakfast, lunch, evening meals
Payments to local community projects

International flights
Travel and personal accident insurance
Visa, passport, vaccinations, medicines
Tips (but we provide guidelines based on Lonely Planet guidebook advice)
Alcoholic drinks, souvenirs, personal items
Activities not detailed in the itinerary or any additional services you may request at the time