IntoAfrica is based and managed in Sheffield, UK, but all our safaris and treks are run by local Kenyans and Tanzanians, many of whom we've worked with for 15 years or more.
Meet some of the IntoAfrica team ....
Dennis Lyamuya (Tanzania)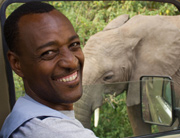 I was born and raised on the slopes of Kilimanjaro and started work for IntoAfrica as a porter/cook on that mountain. They helped me through guide school, and a Wildlife Management Degree and with further help from the Asante Africa Foundation, the Mans' family and Angie Shyr, I was able to set up my own company to manage IntoAfrica's safari and trekking operations - my dream come true - and I still lead most safaris!
---
Chris Morris (UK)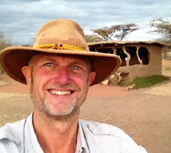 I know it's a cliche but I've had a love affair with Africa for thirty years. In that time I've trekked extensively throughout Kenya, Tanzania and southern Africa, managed basic Kiswahili, and raised two children with my Kenyan wife. Previous lives covered social work with vulnerable teenagers, science education at the University of Sheffield, carpentry and rock climbing - not very consistent I know. These days I'm mostly tied to a lap-top rather than the savannah though .....
---
Rimas Tankile (UK/Kenya)
Rimas is one of very few Maasai women to qualify as a teacher. She has arranged our links with schools and still facilitates our visits and relations with Maasai communities. She graduated with a degree in Community Development at University of Sheffield, with the aim of returning to Kenya to raise awareness of FGM, women's education and development issues. Her most recent project was the successful building of a small primary school in Oldanyati.
---
Oforo Masamu (Tanzania)

Born in Marangu at the edge of the forest, Oforo started on Kilimanjaro as a porter. Then 3 years apprenticeship as assistant guide - now 15 years and 250 ascents later he "knows the mountain like his own name". Our clients often comment that his gentle strength, confidence and personal attention have given them just the encouragement needed for that last push to the summit.
---
Rebecca Andeka (Kenya)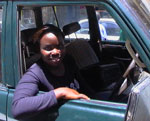 Originally from Western Kenya she took a degree in Travel and Tourism at Moi University in the Rift Valley. "I love to take people through this land of love, life and adventure with an African touch". Speaks fluent English, French, Kiswahili and Luhya. Kenyan women often need to work twice as hard as men to reach the same goal so we know we have a top guide!
---
Elijah Kariuki (Kenya)

From Central Kenya, trained for a year with the Wildlife Club of Kenya as a guide, then spent 6 months as a teacher of conservation issues at Mount Kenya Game Ranch before joining us in 2004. "For me this work is like a continuation of my hobby - I really enjoy it!" Quietly spoken and hugely knowledgeable Elijah is our most popular Kenyan guide.
---
Samuel Kariuki (Kenya)
One of our drivers and wildlife spotters in Kenya. He has been with us now for 17 years and knows every track in the Masai Mara... well, almost!
---
Nelson Kimani (Kenya)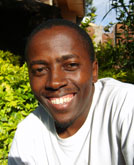 Born 1981 in Mt Kenya region I followed all the ritual Kikuyu ceremonies as my forefathers did. After school I joined Tsavo Park Institute for a Diploma in Tour Guiding, with a special interest in wildlife and conservation. I then studied foreign languages and am now fluent in English, French, Spanish, kikuyu and Swahili. People say that I have hawk eyes because I will spot game where you will see only shadows.
---
Gabriel Mneney (Tanzania)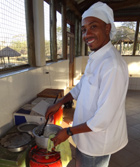 Our Tanzania cook par excellence. He can rustle up a veggie pizza or beef stew with ugali na sukuma wiki - in the middle of the Serengeti - and does so on most trips.
---
Muruthi & George Waweru (Kenya)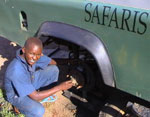 Master and apprentice - our maintenance mechanics.
---
Sammy Kamiri Njuguna (Kenya)

Trained as an ornithologist with a German naturalist - specialising in the rain forest birds of the Kakamega where he discovered "a love of nature that had been a stranger before". A member of the Mt Kenya Guides and Porters club he also works as a leader on the mountain. Sammy has a remarkable ability to recognise birds from their songs.
---
Kassim Shitawa (Kenya/ Tanzania)

University trained as a French teacher combined well with his passion for ornithology and conservation to work as a guide with IntoAfrica. "My joy is to share another face of Kenya that is often ignored by tourists - our culture. I feel pained when I see tourists rushing to watch only wildlife and ignoring the people". Kassim is fluent in English, French, Kiswahili and his beloved mother tongue, Luhya.
---
Julius Ihonde (Tanzania)
After 5 years nurse training and hospital work, like for many others, the mountain called. 3 years portering and then a lucky break when the International Labour Organisation sponsored his full mountain guide training. He hasn't looked back and Julius has been our main Kili guide since 2003 and become renowned for singing his (and your) way to the top.