Mt Kenya - Burguret / Chogoria route traverse - 7 days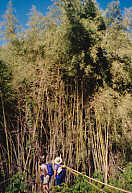 Giant bamboo forest
Going up this route is a challenge: rough underfoot, an overgrown track more used by elephants than humans, muddy when wet, no huts and with dense stands of giant bamboo and montane forest. So why would you want to take it? Well, it's for real wilderness aficionados.
The route was pioneered during colonial days and then abandoned for many years until it was re-opened by our guides in the early 90s. It provides a unique and completely natural mountain trekking experience. Up to Point Lenana then descent on the Chogoria route provides the most spectacular views and completes a traverse of the mountain.
Day 1
Transfer from Nairobi to our hotel on the western slopes of Mt Kenya, altitude 2,000m. Relax and preparation for trek.
Day 2
Short drive to Gathiuru forest station and a 4 hour ascent through dense stands of towering bamboo to our own Giant Bamboo camp at 2600m. Elephant and buffalo are common here.
Day 3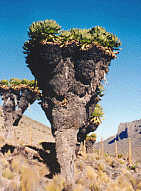 Giant groundsels
The luxuriant bamboo yields to enormous podocarpus and pencil cedar forest before we climb to the hagenia rosewood zone at the edge of the moorlands. This marks our lunch spot before heading up through the extraordinary giant lobelia and groundsels. We spend the night close to the sheer lava cliffs of the "Highland Castle" at 3,700m. Today's hike takes 5-6 hours with an ascent of 1,100m.
Day 4
Spectacular scenery as the jagged volcanic peaks and shimmering glaciers tower above our trek around the summit circuit. Turquoise tarns nestle in the valleys, eagles and buzzards soar overhead - it's difficult to believe we're on the equator! We might, for the first time, meet other trekkers here as we hike for 5-6 hours to overnight at American Camp at 4,300m.
Day 5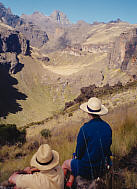 Looking up the Gorges
Valley towards the peaks
Predawn start for the summit attempt. Up steep screes and a bare rocky track to reach Austrian Hut. It's an exhilarating 30 minutes from here to reach the hikers summit, Pt Lenana at 4,985m in time for sunrise - Kilimanjaro is usually visible 340kms to the south Then 3 hours descent to Hall Tarns (4,300m), where you have a late second breakfast. Excellent views from top of a of sheer 300m cliff overlooking the Gorges Valley. Then a 3 hour hike down the Gorges valley in the afternoon, along a broad ridge enjoying magnificent views back up the valley to the snowy peaks, and down to waterfalls, tarns and lava flows in the Gorges Valley itself. Camp by the track head in the giant heather zone.
Day 6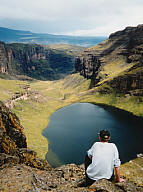 Lake Michaelson on
the Chogoria descent
Short descent through the forest zone to the mountain cabins and afternoon relaxing. Log fires, hot showers, Tusker beers, and beds for overnight. Wildlife viewing in evening - often from your cabin window as the elephant and buffalo graze outside and a large numbers of forest and moorland birds.
Day 7
Descent on a broad track for about 10 kms through bamboo and virgin rain forest to meet vehicles for the return to Nairobi - usually arriving mid to late afternoon.
General
Accommodation is 1 night comfortable hotel, 4 nights camping (3 person mountain tents shared by 2 people), 1 night cabins. All your equipment will be carried by vehicles or local porters, you only carry a day-pack with personal gear. When camping you will not have to participate in camp chores. We buy fresh produce locally and to ensure good standards of hygiene all food is prepared by our own staff. We can cater for special dietary requirements and there are no extra food-kitty payments.
We can also arrange airport transfers and accommodation in Nairobi for before and after your trip.
Trip costs
Cost for any departure date:
US $1,495

per person for group of 9-12


US $1,645

per person for group of 5-8


US $1,745

per person for group of 3-4


US $1,895

per person for group of 2


US $2,795

for single departure
Prices quoted include:
Prices quoted exclude:

All transport
Accommodation - mountain huts and roomy tents when camping
Camping equipment (except sleeping bags and insulation mats)
Services of our own mountain guide, cook and porters
All National Park entrance, hut and camp site fees
All food - breakfasts, packed lunches and evening meals
Donations and payments to local community projects
AMREF flying ambulance insurance cover

International flights
Travel and personal accident insurance
Visa, passport, vaccinations, medicines
Tips (but we provide guidelines based on Lonely Planet guidebook advice)
Alcoholic drinks, souvenirs, personal items
Activities not detailed in the itinerary
Additional services you may request at the time