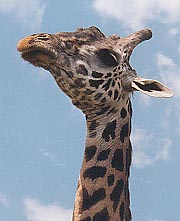 Kenya Explorer - 7 days
A journey of discovery through Kenya that is more than just one wildlife park after another. Discover the contrasting scenery, wildlife environments and cultures of the Maasai savanna, Great Rift Valley Lakes, and Kikuyu Highland areas.
Day 1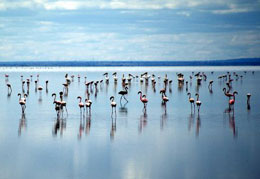 Lake NakuruDepart Nairobi for the 3 hour drive to Lake Nakuru and late morning and afternoon game drives. This small but spectacularly picturesque park abounds with wildlife and you've an excellent chance of seeing the rare rhino, (both black and white), lion, leopard, vast herds of buffalo and the unusual Rothschild's giraffe. It has also had nearly 400 species of birds recorded within its boundaries. Overnight at guesthouse right next to the park.
Day 2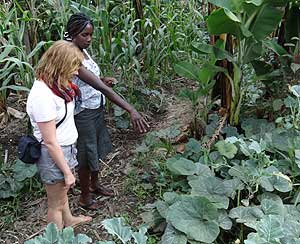 Down on the farmAnother early morning game drive in Lake Nakuru then on to a Kikuyu farmstead by Lake Elementaita – imagine 'Little House on the Prairie' in an African setting. Lunch and afternoon tea, exploration of the subsistence farm (they grow almost any tropical foodstuff that can be grown), and walk along the lakeside. There are hot springs with amazing heat tolerant fish (accessible if lake water not excessively high) and often thousands of pink flamingo and pelicans. On to Lake Naivasha and overnight in boutique cabins by the lakeside.
Day 3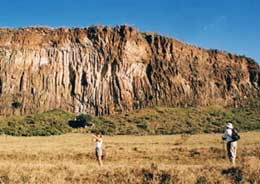 Hell's Gate lava cliffsA short drive to Hell's Gate, one of the few national parks where visitors are allowed to walk freely, strolling amongst zebra, hartebeests, buffalo, gazelles and giraffes, impala and ostrich, with chances of spotting the rare Lamergeyer vulture; all these against a dramatic volcanic backdrop of soaring lava cliffs. You'll also walk down the steep sided gorge past steaming volcanic vents and hot springs. Return for lunch by Lake Naivasha, a vast freshwater lake, famed for its hippo and bird life, particularly fish eagles, love-birds and pelicans. Then take a boat trip in the afternoon to see some of them close up. Overnight again in boutique cabins by the lakeside.
Day 4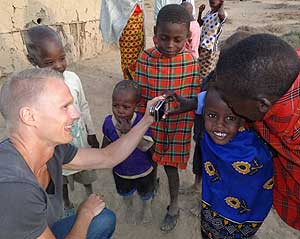 Maasai kids' photo shootLeave after breakfast for a 3-4 hour drive to a tiny Maasai settlement in the bush for insights into their fascinating way of life. Here you can visit traditional homes, observe or engage with day-to-day life, and immerse yourself amongst myriad other serendipitous activities which invariably crop up; or just relax and watch the savannah. Dinner by the camp fire, starlit skies, and the sounds of the African night - often hyenas calling very nearby. Overnight in Maasai style eco-cabins in a tiny camp.
Day 5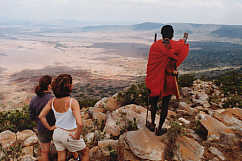 Bush walkEarly morning walk through the savannah with the Maasai as guides and interpreters of their lands, often spotting giraffe, impala, zebra, wildebeest, baboons – even elephant. During term times there will also be an opportunity to visit a tiny primary school (part of the Enkiteng Lepa Maasai Women's project we support here). Early lunch and then 2 hour drive to Masai Mara with game viewing opportunities all along the way. Overnight in a permanent tented camp right on the edge of the reserve.
Day 6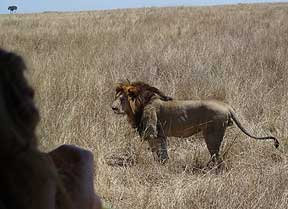 Close enough?Ecologically the Masai Mara is an extension of the great Serengeti plains and teems with wildlife. Up at dawn to spend a full day in the reserve where you almost certainly will see elephant, buffalo, lion, zebra, giraffe, hippo, crocodile and a whole ark-full of other animals. From mid-July through to mid-October the Mara is home to the wildebeest migration. Rhino, cheetah and leopard are seen on 2 out of 3 visits but our expert naturalist guides and 4WD vehicles ensure you have the best chance of seeing them all. Overnight in a permanent tented camp right on the edge of the reserve.
Day 7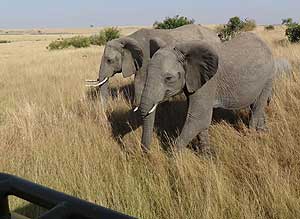 Certainly close enoughAnother early morning game drive and further chance to catch any of the animals you may have missed so far. Then drive back past the Mt Susua and Mt Longonot volcanoes and a final stop for breath-taking views over the Great Rift Valley before reaching Nairobi in late afternoon.
General
Accommodation is local guest house, permanent tented safari camps (en-suite), eco-cabins (also en-suite). If, for reasons beyond our control, we are unable to get the accommodation as described we will substitute with an equivalent or higher standard option at no additional cost. Equipment is carried by vehicle, you would only ever carry a day-pack with personal gear. When camping you will not have to participate in camp chores. We buy fresh produce locally and ensure good standards of hygiene. We can cater for special dietary requirements and there are no extra food-kitty payments.
We can also arrange airport transfers and accommodation in Nairobi for before and after your trip
Trip costs
Cost for scheduled departures:
Group rates private departures:

US $2,345

per person if you can join one of our scheduled departures - see When we go. We need a minimum of 2 people booked for these trips to run. Contact us for booking status if you are a single traveller.

US $2,245

per person for group of 9 -10


US $2,395

per person for group of 5 - 8


US $2,595

per person for group of 3 - 4


US $2,695

per person for group of 2


US $3,795

for single person departure
Prices quoted include:
Prices quoted exclude:

Transport - 4WD Toyota Landcruiser, with roof hatch for game viewing and guaranteed window seats
All accommodation with en-suite toilet/showers
Driver and dedicated wildlife/cultural guide, various local guides
All National Park entrance and other fees
All food - breakfasts, packed lunches and evening meals
Donations and payments to local community project
AMREF flying ambulance insurance cover

International flights
Travel and personal accident insurance
Visa, passport, vaccinations, medicines
Tips (but we provide guidelines based on Lonely Planet guidebook advice)
Alcoholic drinks, souvenirs, personal items
Activities not detailed in the itinerary
Any additional services you may request at the time