Mt Meru - 3 days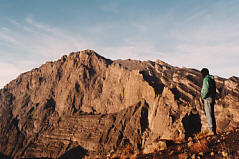 Meru peak at sunrise
Mt Meru (4,566m) is only 50km from Kilimanjaro but with superb trekking and immense natural beauty the excellent potential for acclimatisation on this volcano is often overlooked.
With an armed ranger escort we avoid the main track and take a route up through the ancient forest. Higher up there is thrilling trekking around the crater rim with stunning views across to Kilimanjaro or back to the plains and volcanoes of the Great Rift Valley.
Day 1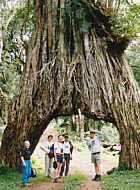 Fig Tree Arch
Early start from Arusha for short game drive in Arusha National Park; we invariably spot buffalo, zebra, giraffe, monkeys, antelope, often elephants and superb birdlife. Then starting from Momella Gate, we use the longer Fig Tree route ascent, up through savanna and montane forest, dense on the lower slopes but thinning as we gain height. Our first night's stop is in the comfortable Miriakamba Hut (2,600m) with great views over the plains below. Walking time 4-5 hours.
Day 2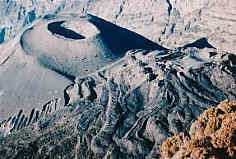 The Ash Cone and lava flows
Meru is a dormant volcano with a crater surrounded by steep cliffs. The cliffs of the inner wall are over 1,200m high, some of the tallest in Africa. We follow a spectacular ridge from where we peer down into the crater to the recently erupted Ash Cone. Forest gives way to giant heather, groundsel, and other high altitude plants, as the path zig-zags up the steep slopes or winds through narrow gullies to reach Saddle Hut at 3,570m. Walking time about 4 hours. Short afternoon hike option up to Little Meru Peak for acclimatisation.
Day 3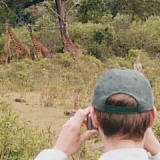 Wildlife viewing on the way up
Anyone wanting to attempt the peak at 4,566m can leave at 2am. It is a spectacular but very difficult ridge walk made more tricky by the cold, wind, steep scree and altitude. It should not be attempted by anyone who is not absolutely certain of their abilities at this height. It also involves a long and strenuous trek down.
Alternatively, a 5am start for a short hike up to Rhino Point at 3,950m in time for sunrise. Kilimanjaro is now a silhouette as the sun rises from behind its massif; the view is simply stunning. Back to the hut for a late breakfast and then descend to meet our vehicle and return to Arusha.
General
Accommodation is in mountain huts, with bunk beds and mattresses. All your equipment will be carried by vehicles or local porters, you only carry a day-pack with personal gear. We buy fresh produce locally and to ensure good standards of hygiene all food is prepared by our own staff. We can cater for special dietary requirements and there are no extra food-kitty payments.
We can also arrange airport transfers and accommodation in Arusha for before and after your trip.
Trip Costs
Cost for any departure date:
US $995

per person for group of 9-12


US $1,095

per person for group of 5-8


US $1,225

per person for group of 3-4


US $1,675

per person for group of 2


US $2,295

for single person
Prices quoted include:
Prices quoted exclude:

All transport
Accommodation as detailed - mountain huts with bunks & mattresses
Services of our mountain guide, armed ranger, cook and porters
All National Park entrance and other fees
All food - breakfasts, packed lunches and evening meals
Donations and payments to local community projects

International flights
Travel and personal accident insurance
Visa, passport, vaccinations, medicines
Tips (but we provide guidelines based on Lonely Planet guidebook advice)
Alcoholic drinks, souvenirs, personal items
Activities not detailed in the itinerary
Any additional services you may request at the time